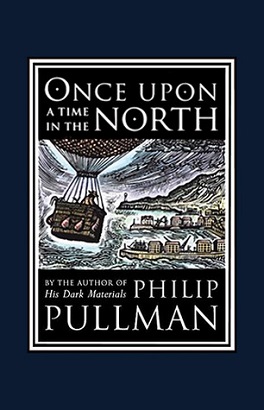 This story is from the series of "His dark materials" by Philip Pullman. The previous book from the same series is "Lyra's Oxford".
"Once upon a time in the North" tells about Lee Scoresby and his rabbit-like demon Hester who is following him everywhere and protecting him twenty-four-seven. Lee Scoresby is an aeronaut who lands with his balloon on the island Novy Odense. His pockets are empty and he wants to get a job. Strange thing is that there are bears on the town streets. They are sleeping and working there. Townspeople take no notice of them, and the bears don't look at them either.
Lee Scoresby is a peaceful man by nature. Nevertheless he gets into trouble from the very beginning. From trivial bar conversations to political and economical games of power, on which the future of the island depends – that is the field of action Lee has to personally deal with. In this context Lee runs up against his long-time enemy Pierre McConville who's a hired killer with at least 20 murders to his name. Fortunately Lee finds a new friend, a big armoured bear called Iorek Brynison together with whom he will fight for what is right.
If this book had an ecranisation, it could be an action movie perhaps. One can easily forget its exact storyline, but the effect of a bizarre atmosphere and a weird humour will last longer, not to mention happy ending. Impressive engravings by John Lawrence are a big plus for this book.
***
Published: Doubleday, 2018
Illustrated: John Lawrence
Check from the e-catalogue ESTER.
Kadi Eslon
Department of Literature in Foreign Languages