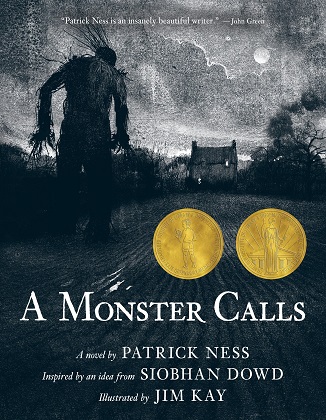 Conor O'Malley has been having a dreadful nightmare which always has the same ending. He woke up again in the middle of the night from this nightmare. Conor just turned 13 and thinks boys his age should not be afraid of imaginary things. However something is off this time. There is something different about the surrounding. Conor hears his name being called. He does not recognize the voice. He is afraid yet he follows the voice. Looking through the window he sees a horrendous yew tree that has transformed into a monster. A monster that resembles a giant human. The monster tells Conor that he has come for him. Conor feels disappointed, he urges the monster to catch him if he can.
The next morning after waking up Conor discovers that the floor is covered with yew tree branches and leaves. He quickly gathers them in trash bags and throws them away. Her mother does not seem to have heard or seen anything last night. They have breakfast after which Conor goes to school. His school day is off to a 'great' start. Thanks to him his classmates get blamed for his actions and now everybody is mad at him. At home things are not much better. His grandmother has arrived to take care of his mother. Conor's mother is going through another course of treatment. She says she is fine and slowly she is recovering. During these times his grandmother is always there for her. Conor thinks he has a peculiar grandmother. One who wears designer clothes, does not cook and has even hired cleaners who will clean her home.
At the same time the monster returns every night. He seems real enough to Conor. The monster tells the boy that three stories will be narrated. The fourth story – the truth – will be told by Conor. Conor already knows what the fourth story will be. He has been seeing it in his nightmare.
"A Monster Calls" is a heart-breaking story of love, loss and relationships. Patrick Ness has written this story on behalf of Siobhan Dowd (who passed away before writing this story) and Jim Kay is the illustrator. This book is suitable both for children and adults.
***
Candlewick Press, 2011; Walker Books, 2016

Check from the e-catalogue ESTER.
Check from the OverDrive digital library.


Birgit Kirsipuu
Sääse branch library