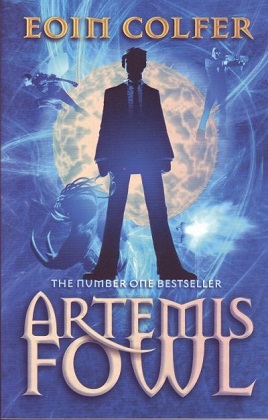 Artemis Fowl the Second is a 12-year-old boy who happens to possess all the means and qualities to be a criminal mastermind. He is intelligent, hard-working and does not fear arduous tasks. Not quite what you would expect from a child, right? He is determined to restore his family's fortune and name.
The Fowls have been known as legendary criminals. Over the span of generations they have hoarded funds. Their status and wealth had stayed they same up until his father Artemis Fowl's bad investement with Russia after the fall of communist Russia. Artemis, not to be confused with his father, plans to correct that miscalculation. He will acquire gold from the People. Who are the People, you might ask…
Well, two years ago Artemis found references as well as ancient texts in books, scrolls and cultures all around the world to the People. Nowadays they are called Faeries. In order to commence his plan, he needs to decode the Book which, for obvious reasons (written in Faerie language and lost in history), has remained indecipherable. That might as well be a piece of cake for him. Stage two is to kidnap a faerie and demand for ransom. He will be helped by the Butlers. The Butlers have served the Fowls for generations. In return for the service and loyalty much money and a retirement plan is provided (that is if they live that long).
Will Artemis be able to fulfill his goal or will he start a cross-species war on Earth?
This book is packed with funny and dangerous adventures. There are a total of eight books in the "Artemis Fowl" series.
***
Published: Puffin Books, 2011
Check from the e-catalogue ESTER.


Birgit Kirsipuu
Head of Sääse branch library